Revolutionary design allows professional chefs to completely renew their cutting surface a number of times. Use a knife to separate layers and easily peel away the worn cutting surface as needed. Each layer is bonded by heat instead of with uses of adhesives.
It is important to turn over the board daily and use each side in order to prevent warping.

Material:
Peel-Away (Polyethylene) 5 Layers per cutting board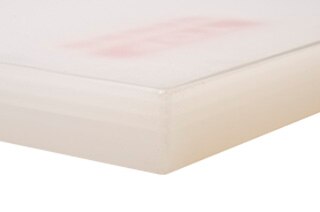 TK-203-05-S
$329.00
$280
29.5"L

x

15"W

x

1.2"H
75L

x

38W

x

3H
TK-203-05-M
$489.00
$415
39.4"L

x

15.7"W

x

1.2"H
100L

x

40W

x

3H
TK-203-05-L
$689.00
$585
47.2"L

x

16.5"W

x

1.2"H
120W

x

42D

x

3H
Care
Highest Temp:

90°C or 194°F

Lowest Temp:

-30°C or -22°F
Exposure to extreme heat, boiling water and sterilizers may cause warping or softening.
Use bleach (approx. 20 minutes) to remove stubborn stains. Make sure to wash thoroughly afterward.
We recommend flipping the board from time to time to allow for even wear.
Wooden cutting boards are currently banned by the NYC health department. KORIN advises customers to take sanitary precautions when considering a new cutting board.